Ordering your team kit from Pendle Sportswear is already a simple process but it can get even easier. If you set up one of our free custom-built club shops, you won't have to search for the kit you need and you can be sure that everyone is wearing the right stuff. If you don't already have one, setting up a club shop couldn't be simpler and there are loads of benefits that you could be missing out on.
Benefits
Easy ordering for Managers and Parents/Players
Personalised to your club so it only includes items you need
You can make sure everyone orders the right kit.
Possibility to get discounts or rebates on all items ordered (dependent on club size).
Receive a dedicated account manager
How does it work?
Setting up a club shop with Pendle is absolutely FREE and will take you a matter of minutes. We just need to know a little bit of information from you. Fill out our form and let us know what you'll need in your shop. It's that easy. In two working days, your shop will be ready to go. Take a look at our example shop to see what it will look like.

Two Sections
Our club shops are divided into two sections. The first is the Managers section and is where you'll want to order full team kits. Placing an order is exactly the same as on our main website but your club shop is personalised. It will only feature the items your club needs. This means everything ordering is super simple. The items in this section come without customisation so you'll be taken through the kit builder process.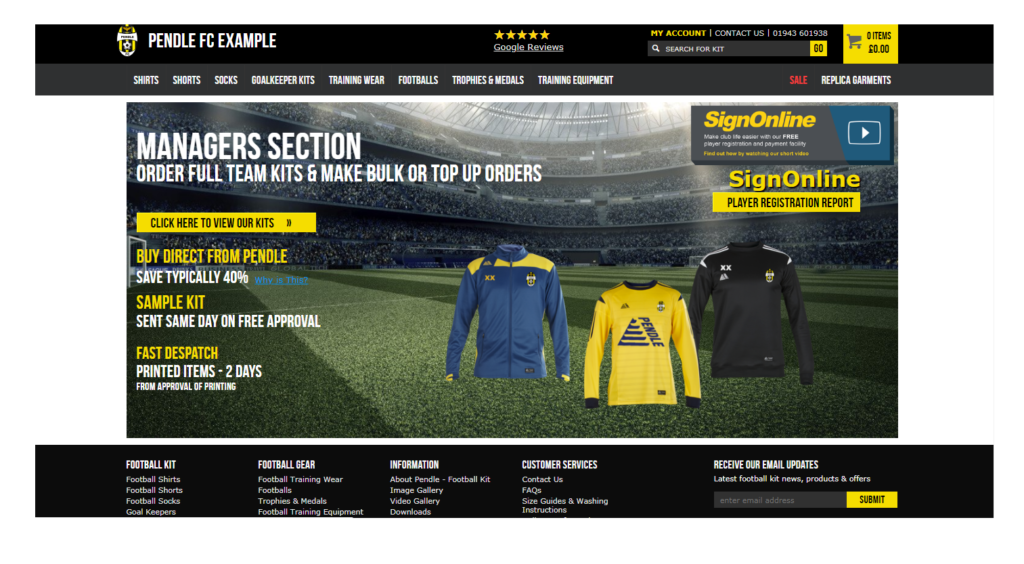 The Parents and Players section is for the sale of replica items. The items here come with artwork already attached and is intended for individual purchases. It means that all of your players and supporters can have their own version of your club shirt. As the customisation has already been agreed upon, the price is fixed and cannot be used towards any deals.
Picking your items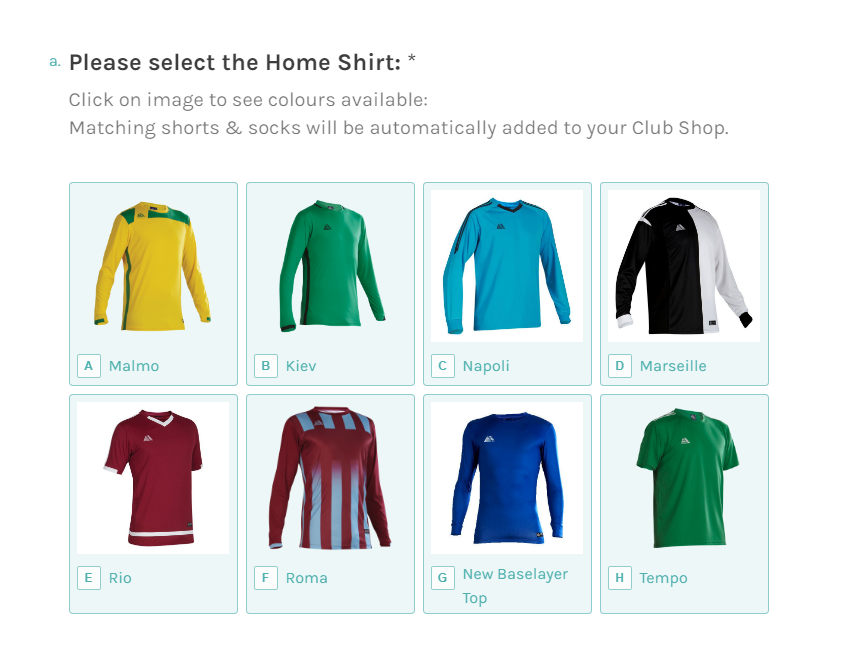 To make sure your club shop is set up properly and quickly, you just need to fill in our easy form. Once you've entered your club name and contact details, you'll be asked to start picking the kit you'd like in your shop. Click on the shirt you want and then pick your colours. Then do the same thing if you'll need an away shirt and a goalkeeper kit.
Next, you'll be asked to pick out the training wear that you'd like. You can pick as many or as few of these products as you need. As you're going through the form, just click on the colour or colours you want to add. If you don't want something then you can just scroll onto the next item.
Embroidered or Printed Badge?
Once you've picked your kit, it's time to personalise it. Let's talk customisation. If we've already created a club badge for you then you don't need to worry about it. We'll have it on file that's ready to use. If you have a new club badge or haven't ordered from us before, we'll just need to get your badge ready first. Once it's been created by our team, it can go straight on to your shop.
You can pick between either a printed or an embroidered badge. All of our printing is done in-house and we guarantee that it will all be fantastic quality. All of our products are rigorously tested so you don't need to worry.
If you would prefer an embroidered badge, we'll need to set it up first. There is a one-off Jacquard fee of £25 for each new embroidered badge and it will need to be confirmed before we can continue setting up your club shop.
Customisation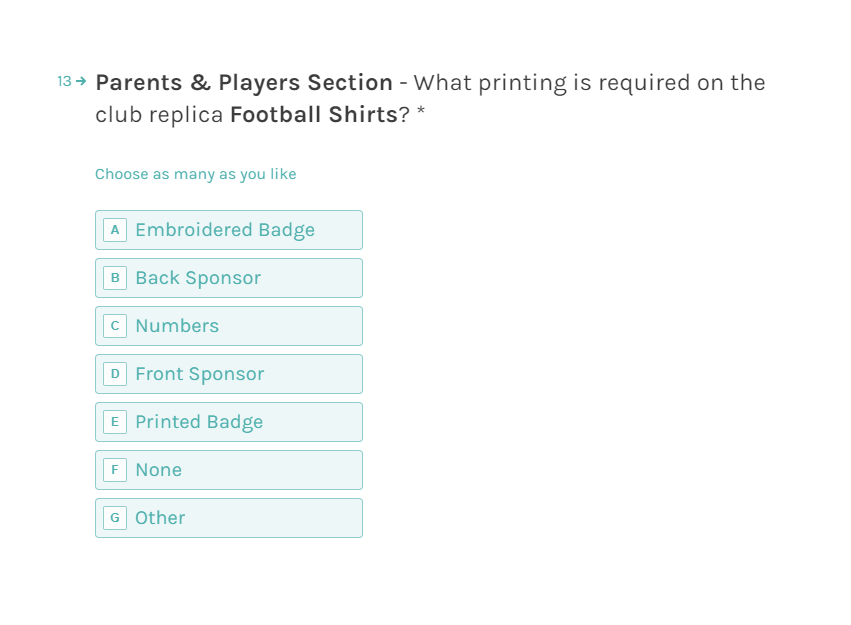 So, you've picked your badge type. Now what? It's time to think about personalising your kit. The form will ask you to pick the printing that you require on your replica football kits and your training wear. If you do not want replica football shirts available on the Parents and Players section then you can simply skip this part. If you do, we need to know if you need sponsor logos, numbers, names, and charter standard badges on your shirts. Click all the options you want from the list above.
Then you'll have to do the same for your training wear. Again, select as many options as you need and we will add it to your training wear options.
Two working days
And that's it. Your part is over for now. Your completed form will be sent to us and one of our team will build your club shop for you. Provided all of the information has been included and your artwork has already been created, the process will take no more than two working days. Once your club shop is ready, you'll receive a confirmation email that includes the link to your new club shop. As soon as you're happy with it, you can start shopping.
Keeping it up-to-date
And don't worry about making changes to your shop. If you ever need to add additional items, remove unnecessary kit, or change the available artwork, just email onlineservices@footballkit.co.uk and let us know what you need changing. One of our team will update your club shop and let you know once it's finished. Update as many times as you need. It's important that your club shop is always up-to-date.
So there we have it. You can have your free club shop in a matter of days. You'll get loads of benefits and all you have to do is fill out one quick form. What are you waiting for?