Last Updated on: 21st November 2023, 05:06 pm
Picking your new football kits for your club is an important decision. There are so many things for you to consider before you make your choice. So, what exactly do you want to think about when picking your new kit?
Dressing for success
Buying new football kits has a lot to do with creating your club identity but it can also impact a player's confidence. Looking professional can give a player an extra boost on the pitch. It can also give you an edge over your opponent by knocking their confidence. It all comes down to looking the part and playing like a professional. To ensure your players are all living up to their potential, you'll want to get the best possible kit.
Full team kits
A team wearing a football kit is about more than just knowing who you're meant to be passing to. Anyone who's played football will understand the feeling you get when you're dressed in your football kit before a match. Being part of a team wearing matching gear promotes the idea of teamwork, creates unity, and can help bring about success. Being proud of their football kits will push players into performing their best every time they step onto the pitch.
Comfort
Finding the right fit is important. When you buy new football kits with Pendle, you can choose between a great range of sizes for adult and junior players. The unisex design will be perfect for men, women, girls and boys, so you can buy new football kits for all of your teams in one go. Our modern fit shirts not only look great but give players enough room to move. Check out our size guide to find the best fit for all of your players.
The right materials
Players will be working hard and are bound to sweat. Making sure that your kit is made from moisture-wicking fabric will ensure that it doesn't affect their comfort levels. You'll also want to make sure that shirts keep their colour because they'll need a fair bit of washing. Buy your new football kits with Pendle and you get 100% durable colourfast polyester which retains colour wash after wash.
Which colour?
There have been plenty of studies to determine if there's a link between shirt colour and your chance of winning. The results tend to suggest that teams with red shirts win more often than teams in other colours. Between 1947 and 2003, 60% of winning English teams wore red shirts. Followed by 20% wearing blue, 10% in white, 5% in yellow or orange, and 3% in other colours.
There could be plenty of reasons for this but colour theory suggests that red is not only good for boosting confidence but also suggests dominance. It's also possible that red is just easier to see on the pitch which increases the accuracy of passes. Whatever the reason, check out our range of red football shirts and see if it gets you on a winning streak.
Make sure you're visible
Of course, you don't need to go rushing out and change your shirts to red if it isn't part of your club's colours. The main thing you need to consider when it comes to kit colour is that your players can see each other. Nobody wants to go through what Manchester United did in 1996 with their invisible grey shirt. Thankfully, Pendle has a great range of eye-catching football shirts for you to pick from.
Customisation
Getting a professional-looking kit is about more than just colour. Players are more likely to put in a greater effort if they feel more like a professional team. Creating a professional kit can be as easy as adding numbers, names, and sponsor artwork to your shirt. A club with a more professional-looking kit will seem like a bigger threat than one with a more basic one. When you buy your new football kits from Pendle, you can choose from a range of customisation to suit your club's budget.
Get the best deal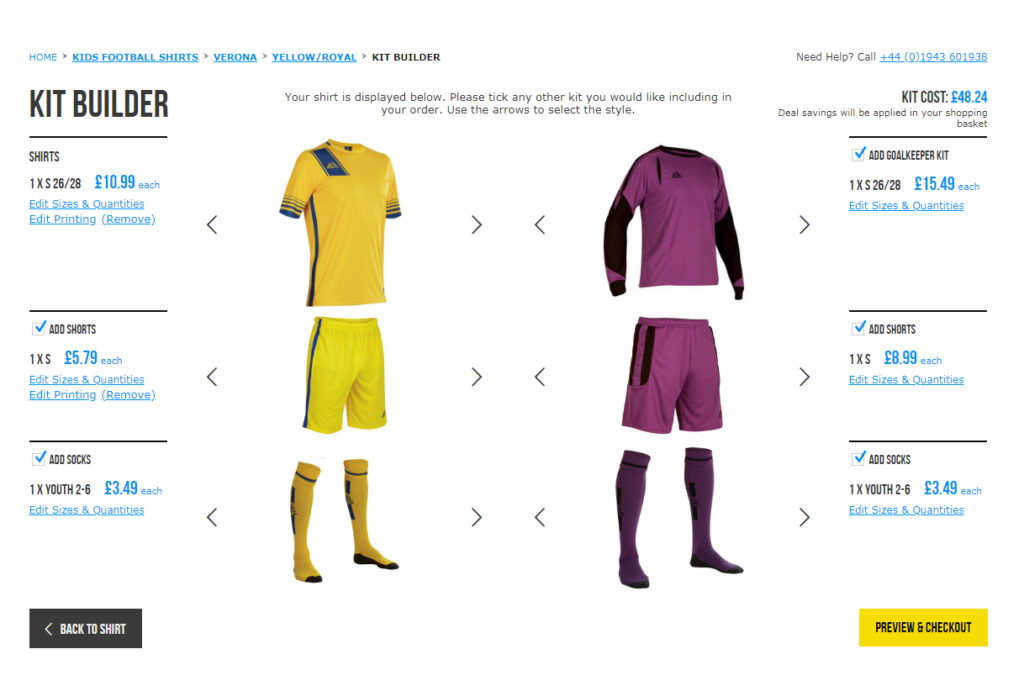 Why choose us as your kit supplier? When you buy new football kits from Pendle Sportswear, we guarantee you'll get professional quality kits for grassroots prices. If you're looking to kit out your whole team then our football team kit deals are exactly what you need. Our kit bundles contain:
7 or 14 football shirts
7 or 14 matching pairs of shorts
7 or 14 matching pairs of socks
1 goalkeeper shirt
1 pair of goalkeeper shorts
1 pair of goalkeeper socks
All of these items include your printed club badge, a front sponsor logo, and numbers on the back. With prices starting from only £149 for kids and £185 for adults, you'll definitely find something to fit your budget. To top it off, it's easy to put together thanks to our user-friendly kit builder.