Football history is full of iconic kit designs. There are some shirts that stand-out so much that they are remembered for decades. So, when it comes to designing your club's football kit, you have to get it right. Pendle has been providing custom football kit direct to clubs for 42 years so we know you want the process to be as hassle-free as possible. That's where our kit builder comes in. When you order a kit through our website or one of our dedicated club shops, you will be able to personalise your kit to look exactly as you want it. Our kit builder is super simple to use and will let you see your new custom football kit come to life in front of your very eyes.
Our History
Pendle has a long history of selling football kits directly to clubs and over the years the process of ordering has certainly moved on. The following images are an example of the order form that you would have found in our brochure back in 1993.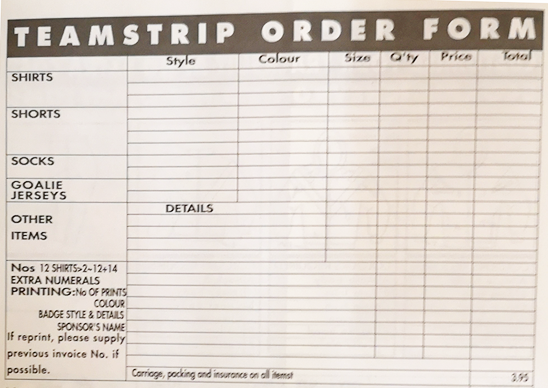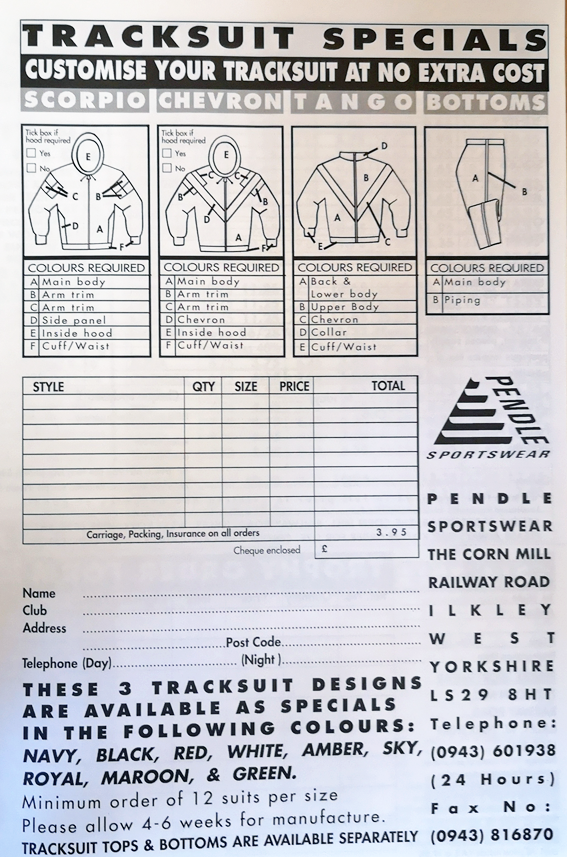 Nowadays the process is much quicker and allows teams to easily customise their kit on our website.
Pick Your Shirt
The first stage of the process is definitely the most difficult. You need to decide which of our range of football shirts you prefer. Pendle has a wide range of shirt styles and they are all come in a great variety of colours. The shirts offer a modern fit and we're sure you'll be impressed with each of them. Although, this does make the task of picking one even harder.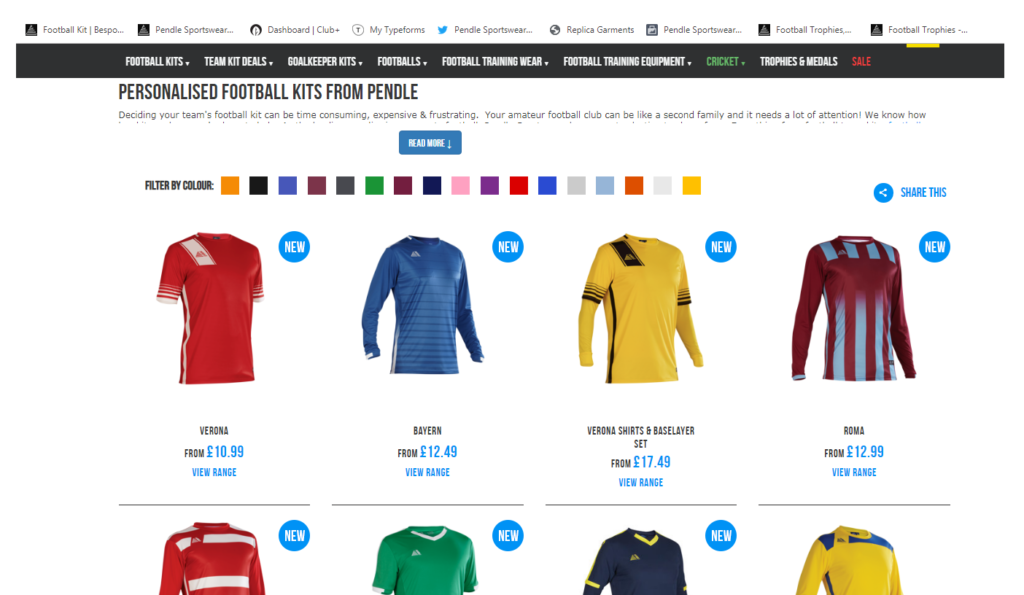 So, are you a team that prefers a striped style? Are you known for your traditional hooped kit? Or are you looking for something more minimal? Pendle has something for you regardless of your tastes and all of our shirts are made to the same high quality. It certainly makes the decision-making process that little bit harder.
Build Your Kit
Once you've managed to narrow down your options to a single shirt, you'll want to find shorts and socks to match. The good news is, we've taken the hassle out of finding them. Click on the shirt you are interested in, enter the sizes that you require, and click "Build Kit & Add Printing". This will take you to our kit builder.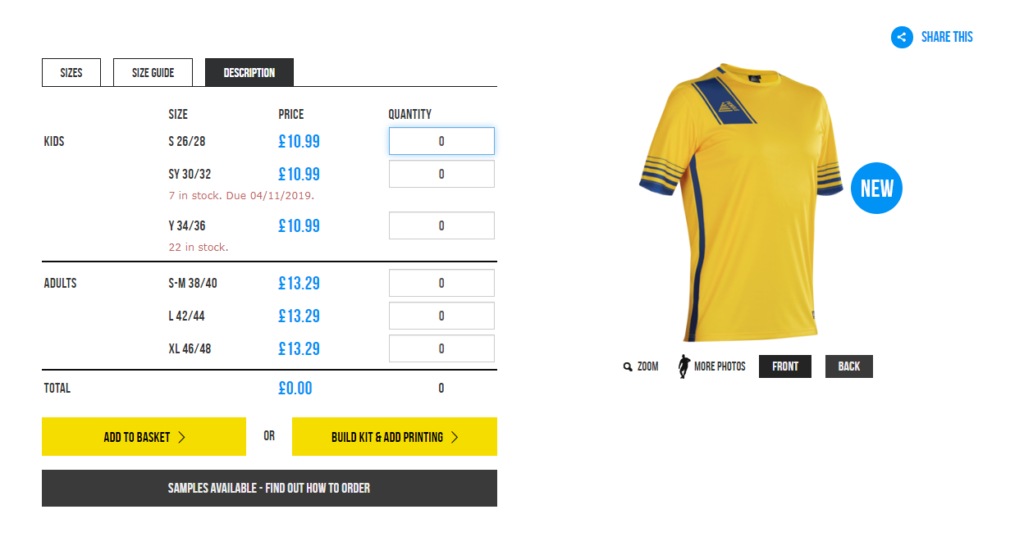 Then you simply need to click "Add Shorts" and "Add Socks" and our system will find kit that matches your chosen shirt. It will pick a range of items based on the colour of your shirt and, using the arrows, you can scroll through until you find the perfect choice. Why visit the individual pages yourself when the work can be done for you?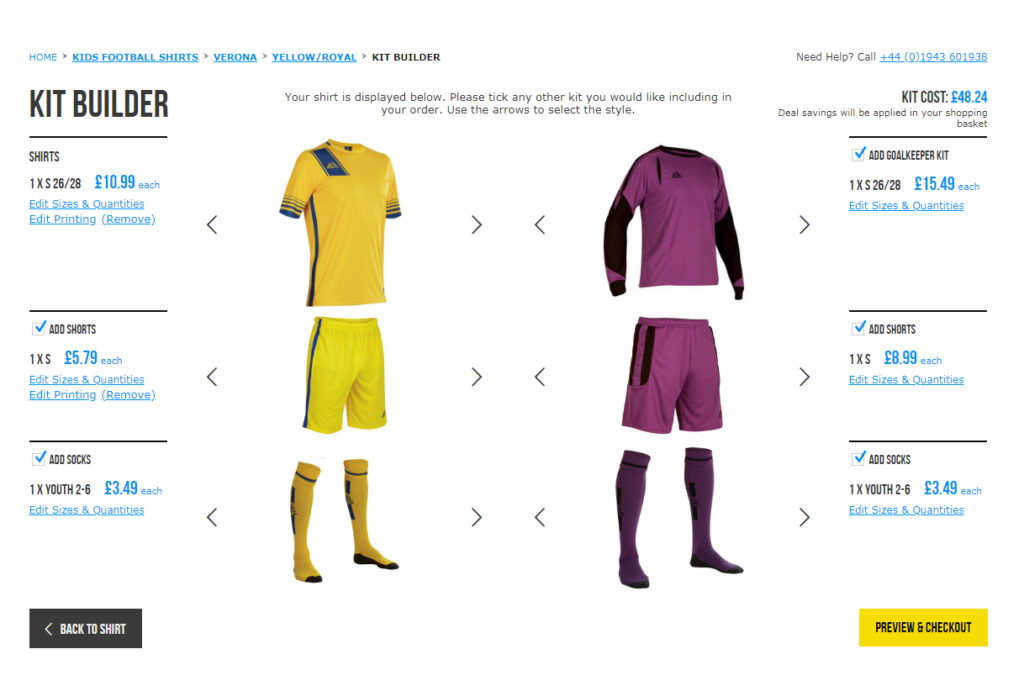 And don't forget to add a goalkeeper kit. The Kit Builder will let you scroll through every option for a goalkeeper kit that we offer until you find the one that suits your club. You'll definitely want to add some goalkeeper kits so you can take advantage of our Football Kit Deals. Get your hands on 7 full team kits and a goalkeeper kit for as little as £89.
Customise Your Kit
Now comes the fun bit. It's time to build your custom football kit. Our customisation process is super simple and quick. All you need to do is walk through each step. The image below shows you each of the stages you'll go through before you're ready to buy.

Either upload the artwork that you need or use the ones already saved to your account. Then you can decide where you want the artwork to be placed on the shirt.
Embroidered or Printed Badge?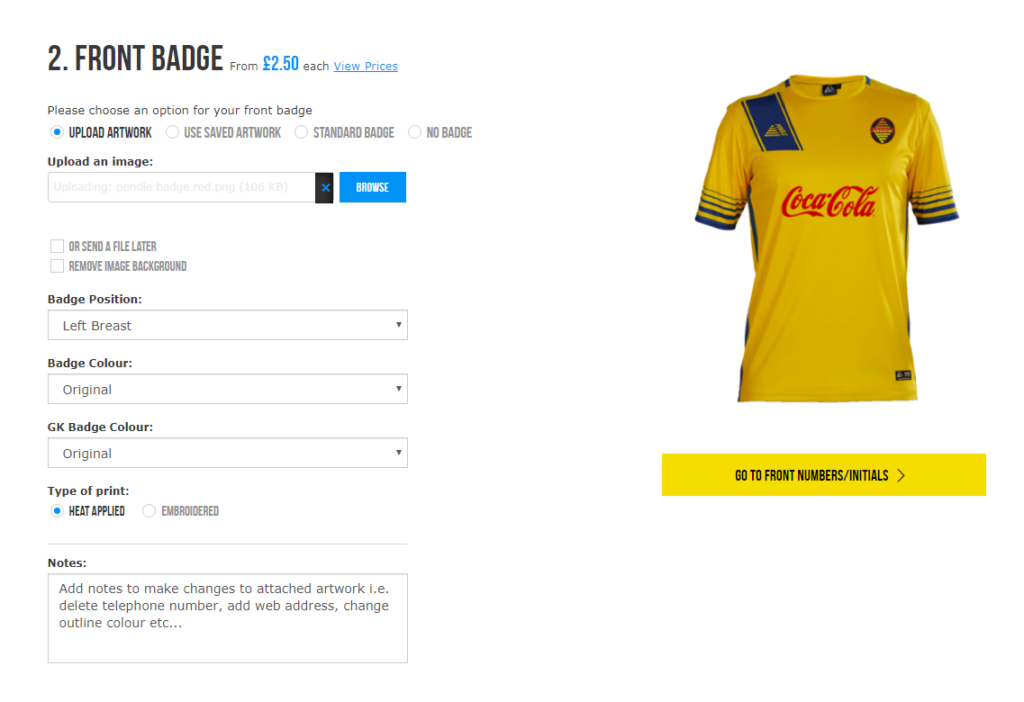 Your club badge is the most important part of any personalised football shirt so you want to make sure it looks great. Pendle offers the options of a printed badge or an embroidered badge. To select a printed badge, you just need a copy of your badge and we can get everything sorted no problem. And don't worry if you don't have one to hand, you can send a file to us later and complete your order without one.
However, you might want to get your club's badge embroidered onto your shirt. If you don't already have an embroidered badge set up with us, there will be a one-off Jacquard fee of £25. This is to cover the costs of setting the badge up and making sure you're absolutely happy with it. Once that has been paid, you'll be able to add your club badge to any item you want.
Customisations
As well as the all-important badge, there are several different ways to personalise your kit. Does your club have a sponsor? Then you'll want to get their logo sitting proudly on the front or back of your shirt. Or even both if you want to get the message out there.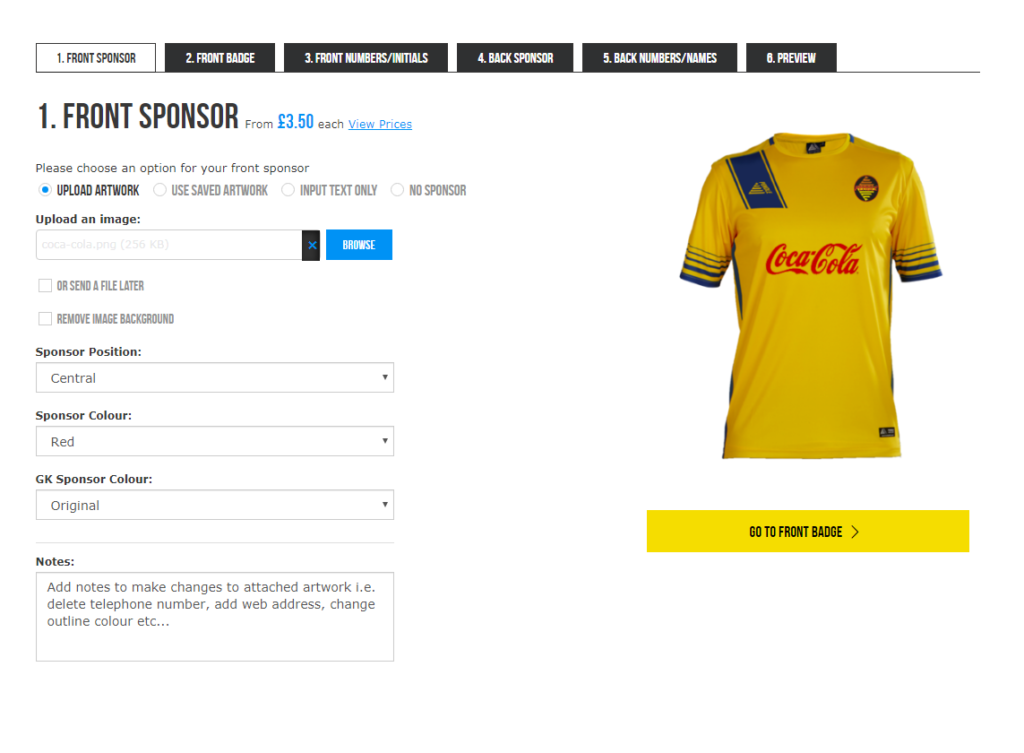 Maybe you want to get really personal by adding initials or numbers to the front of your shirt? Or add a name and player number to the back. Just to make sure your players are absolutely certain about who they are passing to during a match.
Our kit builder will enable you to add the customisation you need and the image will update to give you a realistic image of what the end product will look like. Of course, there are times when the sizing is a little off but you'll be able to get a pretty accurate preview of your final kit.
Your Kit
And that's it. In a matter of minutes, you'll have gone through the entire process and have designed your own football kit. If you're not happy with anything, then you can easily go back and change anything. Just use the top menu buttons to navigate back to the customisation you need. But we're absolutely sure that you'll be so pleased with the final result.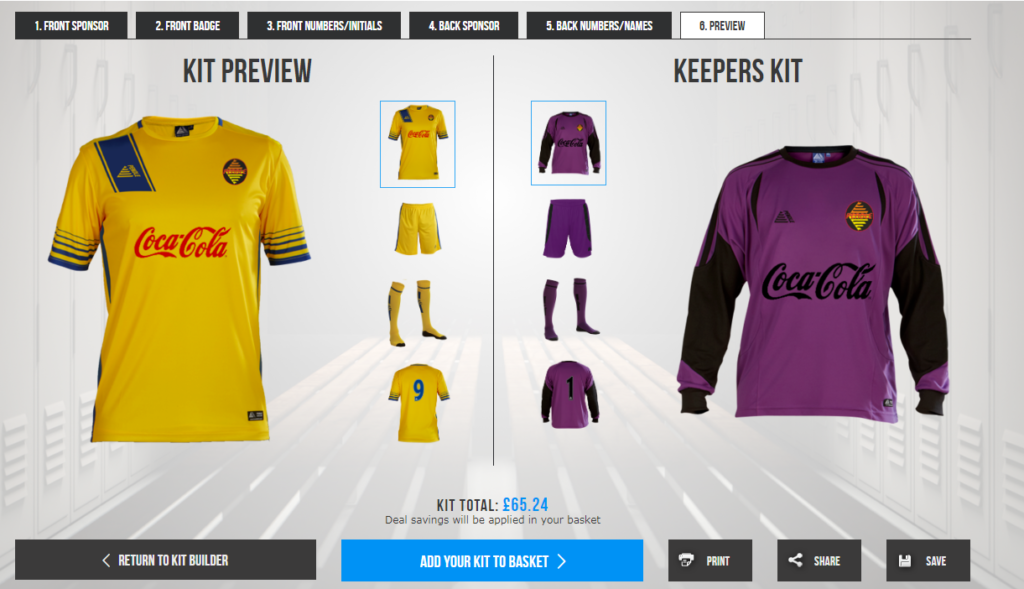 The final stage of the process is a final preview of your finished customisation. If you can't wait to get going, you will then be able to add to your basket and pay for it immediately. This will then take off any discounts and deals from the price.
Alternatively, you can save the kit for a later date or share it with the rest of your club. This means, if you're waiting on committee or sponsor approval, you will be able to send them straight to the finished product. Or maybe you just love your new kit so much that you want to share it with everyone you know? It doesn't matter.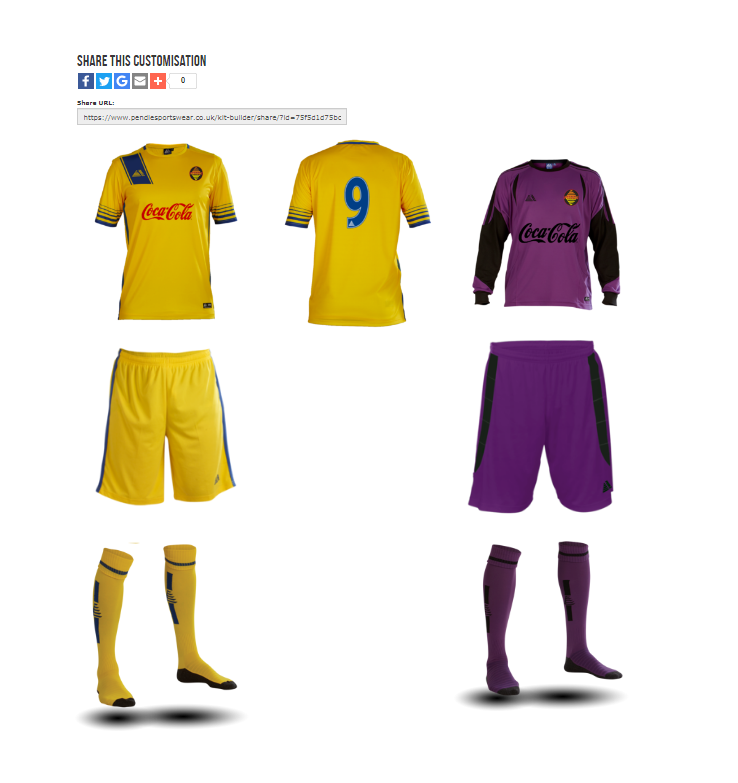 The Pendle Way
So, there you have it. A super simple and quick way to build your own custom football kit. Pendle Sportswear was founded out of a need to make the process of ordering team kits as simple, quick, and cheap as possible. Over the years, the company has done everything it can to carry on with these core values and our kit builder has been created to offer the best user experience.
So, what's stopping you from creating your own design? Check out our selection of shirts and start creating your kit today. Maybe you're about to make an iconic kit that will be remembered by your fans for years to come?