Last Updated on: 31st August 2023, 05:31 pm
Grassroots football is football for all. We may be a bit biased, but we think football is a sport that everyone can and should enjoy. We love being able to see the teams we supply kit to make their way to success.
After all, it's one of the most popular sports in the world. So, why not become a part of it? Have you ever thought to yourself, "I should start my own football team?" Setting up a grassroots football team can be a wonderful and rewarding experience. But how do you go about it? Over the next few weeks, we'll go over some of the things that you need to know when setting a football team for yourself.
Starting a Grassroots Football Team
What's in a name?
Let's start thinking about your grassroots football team as your new baby. Every baby needs a great name and it's best if it's original. You can't register your team using an existing name and try an avoid picking a name too close to another team. Try to aim for something original that really helps you stand out. Also, remember that you want your team to have longevity. Your team name should reflect its personality and values.
Although, you should try and have some fun with it. Football is a creative sport and that creativity should start with picking your name.

Create Your Badge
Your club crest is just as important to your team name. It will be the symbol that identifies you in the crowd. It is the symbol for your grassroots football team. Think about this when it comes to picking your club colours and crest. You can put your personality into it and stand out from the countless other teams out there.
When it comes to this stage, be innovative, creative and have fun. You want a badge that shows who you are, what you stand for and the kind of team you're trying to be.

Appointing Club Officials
We've already posted an introduction to the various roles that make up a football club in our meet the committee blog post here. However, in the next few weeks, we'll go over some of these roles in more detail to really get to grips with them. When setting up your grassroots football club you should definitely consider who you want to appoint as manager, secretary, and treasurer. Having strong people in each of these roles will ensure that your team is set-up as quickly as possible and ready to get on the pitch. You can also think about whether you need to appoint a welfare officer or not.
County FA Affiliation
So, now you need to make your team official. And we're not talking Facebook. It's vital that you affiliate with your County Football Association. This is what allows you to play in league matches. Your local County Association depends on the location of your home ground and the league you want to join.
Affiliation acts as a sort of quality assurance and provides a safety net for plays, clubs, officials, and administrators.  They are the governing body of football in that area and oversee all activity in their location. There is a fee to pay but the benefits do outweigh the cost.
Find out who to contact in your local County FA
Register with a league
The next step is to register with a local league. You will be able to find a list of leagues for your area in your county FA handbook. When you have picked your League, you just need to submit an application. As with the County Affiliation, there will be another charge here. This could probably be within the region of £80-100 depending on your league. There may also be an additional charge if there are cup entry fees on top.
Club Constitution
Your next thought should be to produce a constitution letter. This is a formal guide that deals with issues relevant to the FA's accreditation scheme. This ensures that standards are high within all levels of the sport. Tailor this to your club and what you are trying to achieve as a team.
A constitution letter should include:
Club name
Affiliation
Aims and objectives
Equality statement
Welfare statement
Membership/ fees
Finance
Annual general meeting (AGM)
Voting procedures
Discipline and appeals
Dissolution procedures
Review of the constitution
If you are still worried about where to start, the amateur football association has a helpful guide for grassroots football teams about what you need to write. There are plenty of examples to be found on the internet but a good starting point is this FA document template.
Annual General Meeting
You'll have noticed that one of the points to consider in your Club Constitution was the Annual General Meeting. Obviously, this isn't vital but is something to keep in mind for the future. Headed by the club chairman, meetings offer an overview of accounts to shareholders and partners.
It is also the time to raise questions about the future of the club and a chance to put any ideas forward.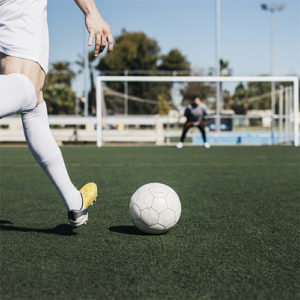 Assembling Your Team
So, you've managed to overcome a lot of obstacles and you'll be keen to get on the pitch. The last major thing to consider about your team if finding and registering your players. Unless you've already got a team in mind, you'll want to hold trial sessions to allow potential players to showcase their talents to you. You can market your team through social media for free and try and bring in the best players. Or put up flyers in your local area to encourage people to attend. Think about the kind of players you're looking for and target your advertising to the most relevant places.
A Sunday League squad would usually benefit from a squad of about 20. For a 5-a-side team, normally 8 regular players will suffice. When it comes to figuring out how many players you need, work somewhere between these two values.
Registering Your Squad
Once you've picked your squad you need to register your team. Your club secretary should complete this process through your affiliated County Football Association.
You will need general information from each player before filing the application for approval. The County FA will send it to the league on your behalf. The league will make the ultimate decision after reviewing your application. Although, the County Association will keep you updated. It is worth noting that your players can only be deemed eligible to play if they have been signed off by the league.
End of Part 1
So, there we have it. We've come to the final stage of your initial set up of your new football club. It might seem like a lot of work but, with the right people around, the rewards of starting your own grassroots football club are endless. Next week, we'll go into greater detail about the costs of starting your own team so you can really break down your financial situation.