Last Updated on: 13th September 2023, 04:05 pm

SignOnline: Take the hassle out of player registration
Pendle's history is tied up with grassroots football so we are dedicated to helping the people who are at the heart of every amateur team. We know how much you have on your plate and want to help make your lives as easy as possible. This is why we offer such competitive prices and the fastest delivery times on printed kit. But we don't just stop there. We have additional skills at our disposal and like to use these to benefit you wherever we can. Our SignOnline feature is one of our free online platforms that will take some of the stress out of running grassroots football teams.
What is SignOnline?
Quick answer: it's Pendle's free and simple online player registration and payment facility.
In other words, it's the system that we've created to make it really easy for clubs to sign up their players each season. It is connected to your club shop and has a side for Managers and a separate side for Parents and Players.
Parents click through to the registration form where they are able to fill in the information about their children and pay any fees for the season ahead. Club officials use the Managers Section to access the registration report. Here they will be able to see who has registered, their details, and the amount of money they owe. These reports are password-protected so all personal information is safe and secure.
What if I don't have a Club Shop?
Don't worry! Setting up a club shop for your team is quick, easy, and incredibly useful. If you would like more information, we have talked about the benefits in another blog post.
Alternatively, you can check out our example Club Shop to see how everything works. Then, all you need to do is fill out this simple form and we'll build your shop within 2 working days. You'll be amazed by how much easier it makes your life.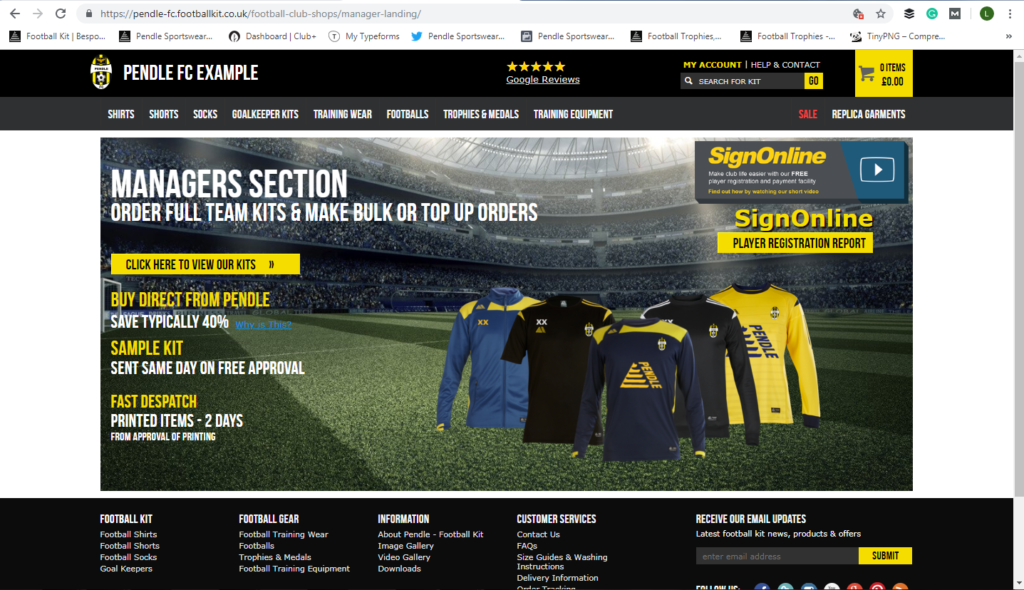 Why Use SignOnline?
Why not use SignOnline? There are plenty of benefits of setting one up:
It's FREE
Save you time and hassle
Flexibility with the forms
Secure payments
£5 Pendle voucher for every parent who signs up
Automated reports for club officials
If you're still having doubts about SignOnline, let's go into those benefits in more detail.
It's FREE
I don't think we really need to go into any more detail with this one but it bears repeating. This is a service Pendle offer to set up for FREE.
Hassle-Free
To start things off, Pendle will be the ones setting up your SignOnline. All you need to do is give us a bit of information to start us off. Once we've finished your SignOnline, we'll let you know and help you get started.
Once it's ready to go, SignOnline will definitely save you time and hassle when it comes to registering players. It means no more paper forms and no more handling of cash and cheques.
Parents and players can sign up in less than 5 minutes and all payments will be transferred automatically to your club. Parents signing up more than one child are able to sign up multiple children at once. Any single parent will be able to add up to 6 children to the system.
It really is a time-saving and easy-to-use device that will make signing up your players as stress-free as possible.
Flexible Forms
There are plenty of things that your club needs to know about each player and we have specifically designed our form to make sure you get it all. For instance, we have questions regarding safeguarding, medical details, and parental agreement. However, there is some room for flexibility. If you decide there are questions you don't want then we can remove them and, with certain questions, there is a chance to reword them to fit your needs.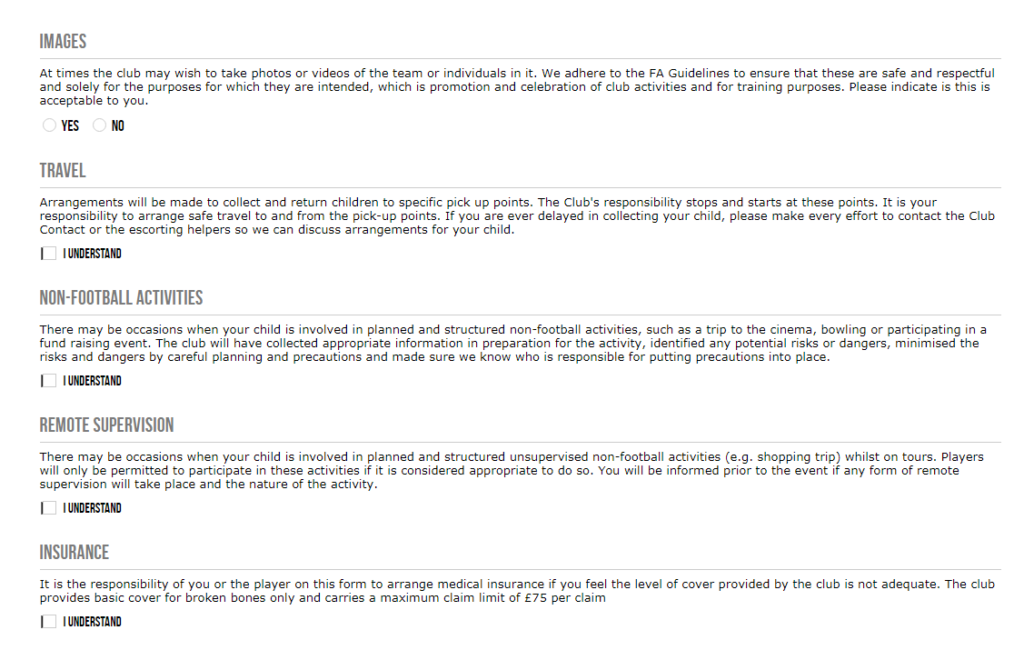 Secure Payments
You don't have to worry about payments either. When your SignOnline is being set up, you can choose between a number of payment options for your players. There is the option of a monthly, quarterly, annual, or a customised payment for the club fees. We also have the option to include a multi-child discount.
And we can guarantee that any payments made using the system will be quick and secure. The SignOnline requires a business PayPal account, which is very easy to set-up if you don't already have one. Any money that is exchanged between the parents and the clubs goes directly to this PayPal account. All it takes is a few clicks.
£5 Vouchers
It is important that each parent fills in the online form themselves. This means that the club gets accurate information for each child. As an incentive to this, Pendle gives the parent a £5 gift voucher code for each child they sign up. This voucher code is to go towards items that are available to buy in your club shop.
Automated Reports
Our system makes it really easy for Managers and Treasurers to keep track of who has signed up to the club. The tool lets you view players on an individual or a team by team basis. You are able to filter the data by date, team, age, player's name, and parent's name. Meaning it's really simple to find what you're looking for.
And, as an added bonus, with the click of one button, you can export all of the selected data to an Excel spreadsheet. It really couldn't be simpler and you'll notice the time and effort you're saving every season.

 You don't just have to believe us
Obviously, we think our products are great and will really benefit your team. But we know that we're, maybe, a tad biased. So, it's always great to hear that we're not the only ones singing SignOnline's praises. Teams that have implemented the SignOnline feature for their club have noticed a great difference in the way they run their team.
"Saturdays are no longer wasted paying cash & cheques into the bank, the reports to see payments received are easy to use. A massive thumbs up from me."

– Chris Johns, Ilkley Town AFC Treasurer & Finance Director
 No excuse
Once again, there's really no reason for you not to be using this FREE online tool. It will save you time, keep all of your records in one safe place, and will make taking payments quick and secure.
To get things started, fill out our simple form today.