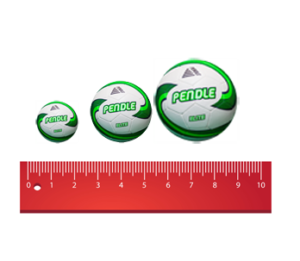 Footballs: we still think they're pretty important. With the help of our post last week you should be able to tell the difference between training and match footballs. So you'd think you would be ready to make the final choice from all of the options that Pendle has to offer, right? Well, unfortunately, there's a final step in the process. Before you finally pick the right football for your team you need to decide which size you need.
When you're training children, you must always take their age into account. Just as you wouldn't make young footballers wear kit that's too big for them, you should make sure they are using the correct sized footballs. After all, why would you spend so much effort getting your team ready just to start them off with the wrong ball? So, we've devised a handy guide to picking the correct football to suit your needs.
Not all footballs are created equal
They may stick to one basic shape but footballs still come in a range of sizes. At Pendle, we offer 3 different sized footballs. All of which come in a wide range of styles and colours.
Size 3 Footballs
Size 4 Footballs
Size 5 Footballs
All of our footballs are made to the same great quality and offer optimum performance. But what exactly is the difference between the different sizes?
What is the difference?
Really, it all just comes down to the age of the players who will be using the ball. When it comes to young players, the smaller the football the easier it is for them to develop their skills.
According to the FA guidelines, the increase in size corresponds to the age of the teams who will be using them.
Under 7s to Under 9s – Should be using a size 3 football that has a circumference of 23-24 inches
Under 10s to Under 14s – Should be using a size 4 football with a circumference of between 25-26 inches
Under 15s and above – Use a size 5 football, which has a circumference of 27-28 inches. It is the standard size for adult and professional players.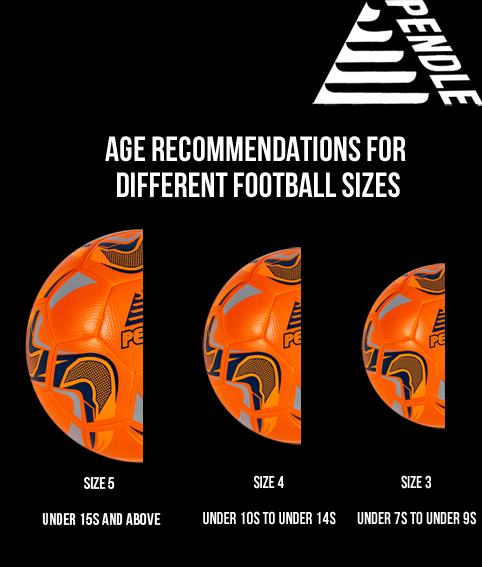 But why is it important?
When coaching younger children, it is important that the focus is on developing basic skills instead of just winning matches. Using the right-sized football for a player's age is important to help them gain these skills. Presenting them with a ball that is too big and heavy for them will only make their training more difficult. Heavier balls will make practicing dribbling much harder for young children. Using the incorrect sized footballs can also set children up with bad habits. For example, if a ball were too heavy, the player might decide to kick with the toe of their boot to ensure an effective kick. This could easily become an unbreakable habit
Additionally, the FA have strict rules about which footballs should be used for each age group. All players need to get used to the ball they will be using in their matches. Children will find it easier to play better if they are familiar with the size of balls that are used in their official matches.
So, now that you know exactly which size you're after there's only one thing left to do. Check out the great range of footballs we've got for you.
Tags:
Football training
,
footballs
,
Pendle Sportswear