Last Updated on: 10th July 2023, 11:47 am
Football Goal Buying Guide
Which is the right size goal for me?
There are so many different football goal sizes that picking the right one might seem quite confusing. Thankfully, Pendle is here to help with our definitive football goal size guide. We've included size details, so you'll be able to find the right goal to suit your needs.
Football Goal Sizes
So, which dimension of football goal is the right one for you? The FA have recommendations for all age groups to ensure that they find a balance between competitiveness and development. Take a look at what they suggest across different ages and sizes of games.
11-a-side Football Goal Sizes
11-a-side goals will usually be referred to as full-size goals and will tend to be one of two sizes. Senior teams should be using the most common size, which measures 24ft x 8ft. The FA recommends this size goal for players ages 15 and up. Then junior teams would use the alternative that measures 21ft x 7ft. This is recommended for under 14 and under 13 teams.

9-a-side Football Goal Sizes
Under 12 and Under 11 teams should use a 9-a-side goal. The FA recommendations suggest using a goal that measures 16ft x 7ft for these players. So, anyone involved with youth or junior football will be familiar with this size goal.

7-a-side Football Goal Sizes
A few different age groups can use 7-a-side goals and they're popular in mini-soccer. The most common size of 7-a-side goal measures 12ft x 6ft. The FA recommends that Under 9 and Under 10 teams use this size in training and matches.

5-a-side Football Goal Sizes
The FA recommends a few different size goals for 5-a-side games. Under 7 and Under 8 teams should be using the 12ft x 4ft size goals. The FA recommend that senior teams use goals that measure 12ft x 4ft when playing 5-a-side matches.

FA Recommended Goal Post Size By Age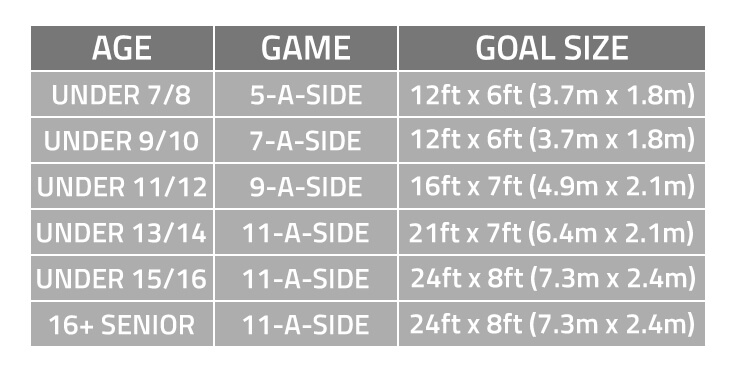 Pendle Goals
Now that you're clued up on the sizing, you know which size of goal you're looking for. At Pendle, we have a great range of mini goals, nets and fasteners. Click below to browse the full range.
---
Pendle Recommendations
---