Last Updated on: 18th May 2021, 12:42 pm
We've previously looked at agility ladders, hurdles, and training cones in our football equipment series. Today is all about the rebounder. Getting your hands on a rebounder is a great way to help improve your football skills. It is the perfect tool for team training or solo practice in your garden. What do you do when you want to practice passing and there's nobody around to help? A rebounder can take the place of your passing companion. It is an incredibly useful device and, most importantly, means you can practice different skills without having to chase your ball!
It is also a brilliant training aid for coaches. Instead of having to spend your time feeding balls to your players, you will be able to focus on what they are doing. Allowing you to take in their form and offer helpful feedback. A rebounder is a great piece of training equipment that can keep your players engaged and help develop their skills.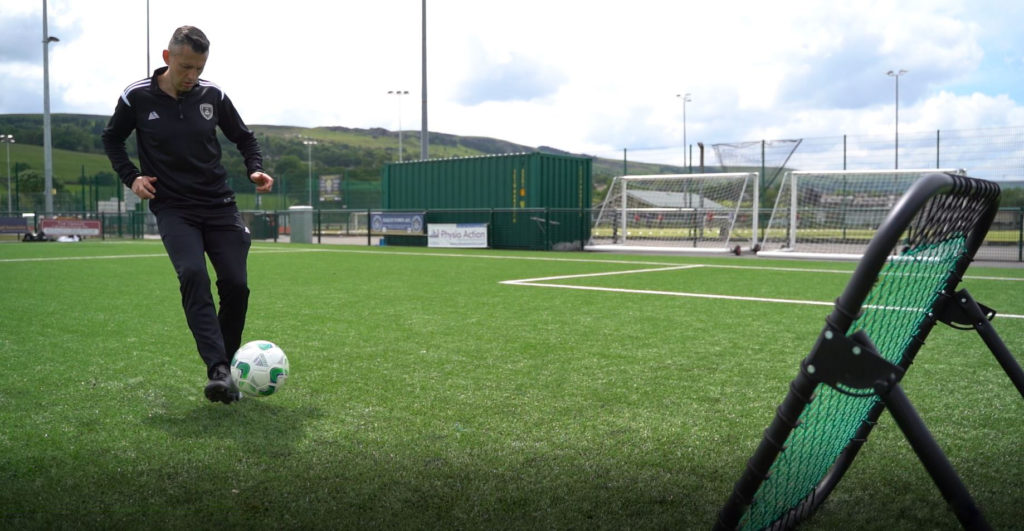 Pendle Rebounder
So, you definitely won't regret getting your hands on a rebounder from Pendle Sportswear. Whether you are looking for something to set up in your back garden or bring to your next training session, our rebounder has everything you could want. It has a lightweight steel frame that's robust enough to handle anything you might kick its way but is still easy to carry. It folds away which means you don't have to worry about transporting it to practice or storing it out of the way.
The frame measures 1m by 1m so you'll have a large enough area to aim for. The spring-loaded rebound area will return your ball to you with ease and, thanks to the adjustable frame, you can alter the angle. This means you can change the trajectory of the returning balls to focus on different skills. It's really simple to use and offers plenty of benefits.
Getting your hands on one of these useful pieces of training equipment will only cost you £69. Although, that price will decrease to £65 in our bundle deal. Get your hands on a rebounder now and start getting your skills in order.
Replicating In-Game Scenarios
A rebounder is a great piece of equipment for solo practice because it can create realistic on-pitch situations. As the rebounder sends the ball back, it forces you to think and move quickly. Your body is forced to react as it would in a game and it will ultimately help your development. You can use your rebounder alongside other pieces of training equipment to improve all aspects of your game and improve your general fitness.

Good for Goalkeepers
Football rebounders are great for training your goalkeepers. With the possibility to adjust the angle, they can force your keeper to deal with incoming shots of different heights and speeds. This piece of equipment means that a keeper can practice being in goal without needing loads of people around taking shots. They'll be able to practice stopping and catching footballs for as long as they need.
Using a rebounder can help improve reaction time, footwork, and even throwing and kicking. The possibilities are endless and it will bring a new level to your goalkeeper training. Check out this video of Everton FC U21s to see how intense goalkeeper training with a rebounder can get.
Develop Your Skills
This one piece of equipment offers your players the chance to do a great deal. These are just a few of the possibilities of how you can use it:
Improve first touch (head, chest, thighs and feet)
Work on volleys
Strengthen weaker foot
Improve agility and reaction time
Work on shot accuracy
Increase heading accuracy
Improving throwing accuracy
The rebounder is a key training aid for all players because of how useful it is for developing skills. It allows for repeated touches of the ball in various ways. The nature of the rebounder means you have to react to where the ball is going. It allows each player to go at their own pace and alter the difficulty to suit their needs.

Great for Children
A football rebounder is a great tool for a youngster who is just starting their football journey. They can be a fun and engaging way to learn the skills they need. It will let them practice at their own pace and focus on the aspects of the game that they need to improve most. If you set one of your children going with a rebounder, they'll be able to develop their handling, passing and shooting to provide a foundation for their future progress.
Rebounder Drills
There are plenty of ways that you can use a rebounder in your training drills. It all depends on what you want to focus on. Players can work on developing their skills in an individual setting or they can be used as part of more intricate drills. But even the simplest of drills can be effective. Repetition is key to mastering any skill. Repeating the same basic task over and over will build muscle memory. For example, using a rebounder to practice passing will mean you become more aware of what a good pass feels like on your foot. Soon it will become second nature and you'll be passing like the best of them.
For ideas of how to use your rebounder then check out the following videos
Don't Forget to Pick Up Yours Now
Hopefully, we've inspired you to start using a football rebounder to help with your training. So, all you need to do now is get your hands on one. Head to our training equipment page to grab one and stock up on additional equipment to put your players through their paces.