Last Updated on: 1st September 2023, 10:54 am
Roberto Carlos' Sunday League Debut
Who is your dream transfer?
Earlier this month, one of our Team Pendle clubs approached us with an exciting opportunity. Their team, Harlescott Rangers, was going to play in a friendly match against Roberto Carlos. How did it all come about?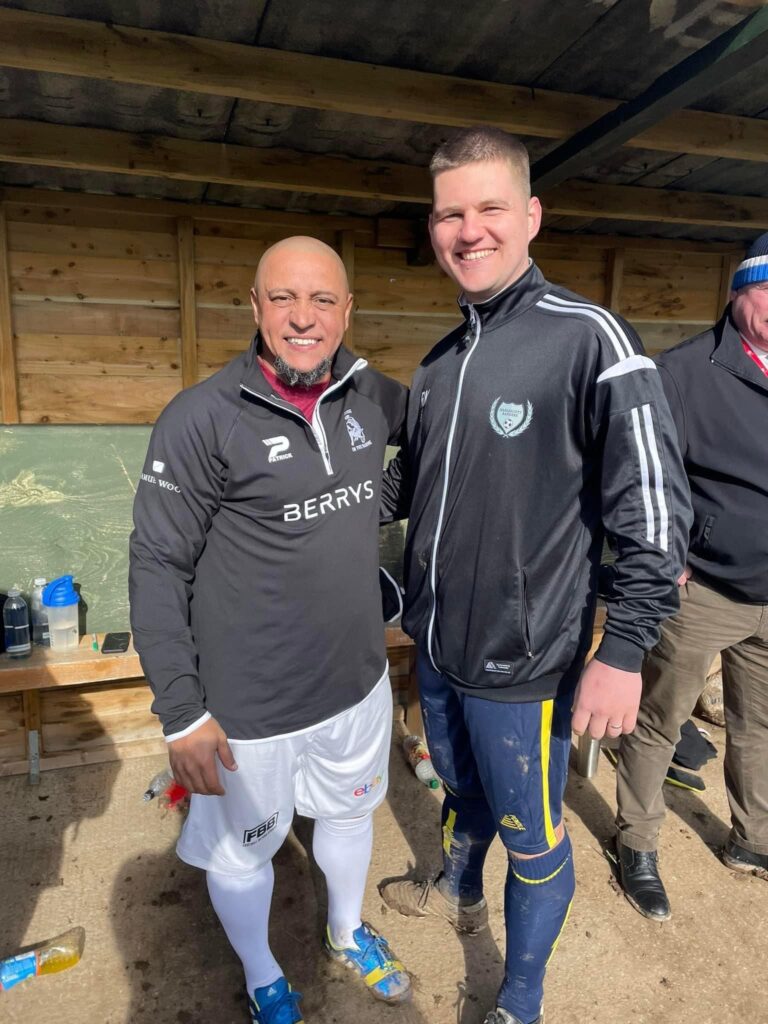 Dream Transfer
In January this year, eBay set up a fundraiser in aid of Football Beyond Borders. The company organised the Dream Transfer raffle. For £5, any Sunday League team could get the chance to sign a football legend to play in one special match. As well as Roberto Carlos,  Eni Aluko came out of retirement for one match to raise money. The Shrewsbury team Bull in the Barne United won the chance to play with former Brazil international and Real Madrid star.

Harlescott Rangers
As a member of Team Pendle, Harlescott Rangers' kit was provided by us, especially for the event. We might be a little biased but the team looked great in their Bayern shirts. The team was clearly delighted to get the chance to play in the friendly. It only made the experience more memorable that they walked away as the victors.

March 4th
On Friday 4th March, both teams gathered at the Hanwood Village Hall Recreation Centre for their match. The arrangement was that the star would go on for 20 minutes at the end of each half. In the end, a strain forced the star to sit out much of the second half. However, that didn't stop him from coming on to score a goal from a penalty. In the end, the match was pretty close but Harlescott Rangers came away as the victors.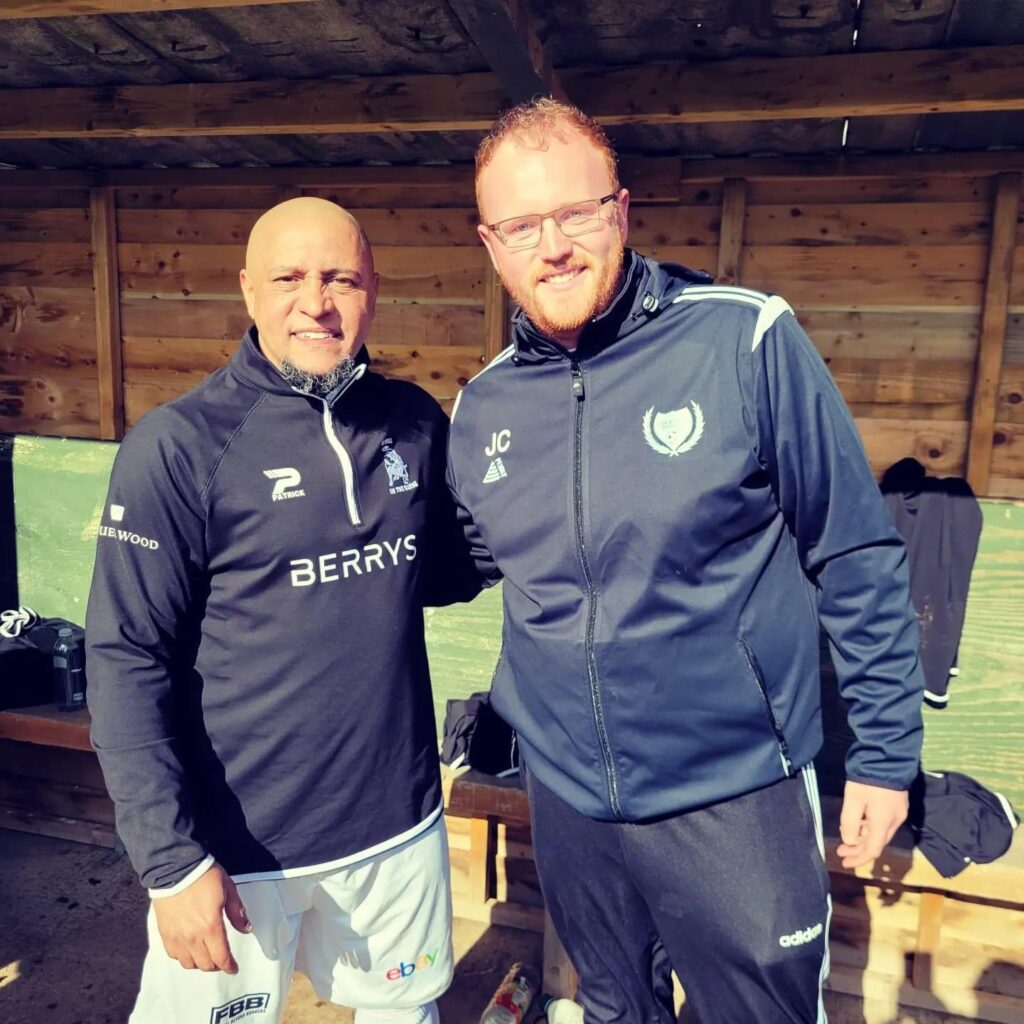 First-Hand Account
We love seeing teams in their kits, so were happy to receive the photos used in this post from Lynne Best. She also provided us with the following account of the day:
"The 4th of March was a unique day for my partner Jeff Walton's local Sunday League team, Harlescott Rangers. He has managed them for 8 years taking them up the rankings to division 1.
The Bull in the Barne won an online eBay raffle to have ex Brazilian international World Cup winner Roberto Carlos play in a friendly match on their home ground. The team Harlescott Rangers was chosen because on previous occasions the games had been very close and fair.
I did the administration requesting the new kit and completing the various security declarations and disclaimers getting them all signed for the safety of the ground, the players and Roberto Carlos.
It was extremely hush hush with the actual match destination secret until the few days before. 200 invited guests sat in two big tiered stands and were given a first class view on a gloriously dry and sunny day. It was a excellent and very close match by both sides.
Roberto Carlos played about 10 minutes in the first half and came on in the second half to take a penalty and scored. Kris Kamara was there doing the tv commentary and he also interviewed our town crier Martin Wood. He was great with the teams and shook everyone's hand before it started.
The result was 4-3 to our team. Delighted we definitely all celebrated long into the night.
It was a brilliant experience for our young players to actually be and to say they played with such an icon of football. They certainly won't forget the day. Neither will I as I'm very proud of my partner and his team."

Football Beyond Borders
Well done to both teams for their efforts on the pitch and congratulations for raising so much money for charity. Football Beyond Borders is a great charity that works with young people from disadvantaged backgrounds and aims to help them engage at school. It is their mission to see these young people finish school with the skills and grades to help them in adulthood. It's easy to donate or get involved.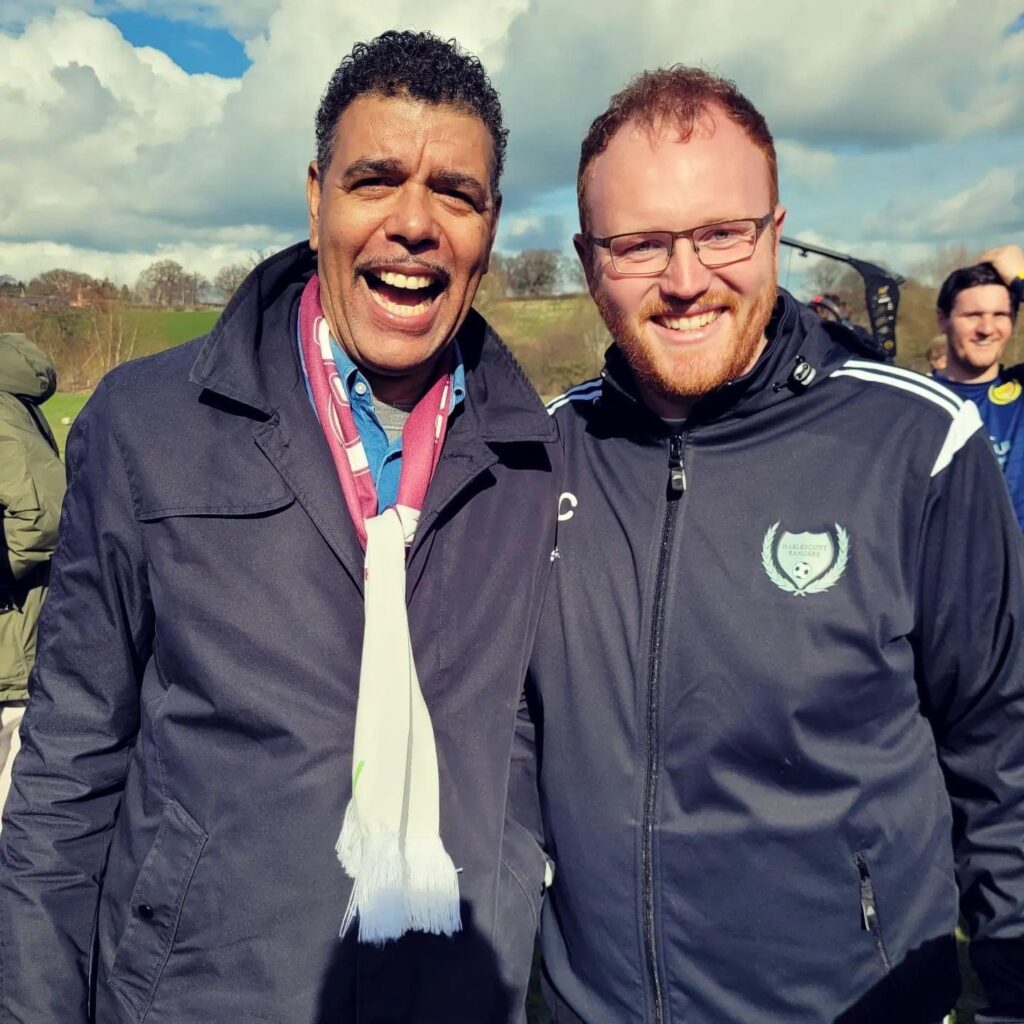 Join Team Pendle
We would never suggest that their kit gave Harlescott Rangers luck on the pitch but we don't think it will have hurt them. After all, when you look good then you feel good and there's plenty of evidence to suggest that improves performance. Get your own lucky Pendle football kits by checking out our range now.