Last Updated on: 14th July 2021, 11:12 am

July Newsletter 2011
---

Dear Fellow Footballer Welcome to our eighth newsletter! This is the eighth edition of our new quarterly e-newsletter, keeping you up to date with all the latest developments.
---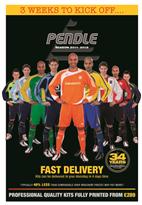 3 Weeks To Kick Off…
Recently you will have received your 3 Weeks To Go flyer through your letterbox. It's simply just our way of reminding you that the new season is fast approaching. With our warehouse carrying more stock than ever before we can offer Fast Delivery, with a kit delivered to your doorstep in 4 days.
Get your orders in now & beat the last-minute rush!
Order online, give us a call on 01943 601938 or e-mail us on enquiries@footballkit.co.uk
---

New Addition – Pendle Blogs
While ordering your football kit or surfing the web, why not take a few minutes to read our latest blogs? On there you'll find topics such as Top Football Stories, Training Ideas & Drills, Special Offers, Product Information & Competitions.
---

Facebook & Twitter
Find us and 'like' us on Facebook to receive the best offers or follow us on Twitter for the latest up to the minute news. With Special Offers exclusive to Facebook users who 'like' us, including a FREE Kit Bag on orders over £300 (Offer valid until 31st July 2011)
---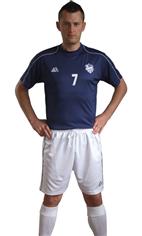 The Best Prices Are Online…
Our main Pendle website and our trophy website are now easier to use & offer the most competitive prices, so now is the time to start ordering online. Make sure you take advantage of our extra special offer. These include an extra 10% off some of our best value trophies and our online EXCLUSIVE Training Kit Deal, which is available for both Adults and Juniors.
---

Pendle Sportswear Tops The Polls!
Is there such a thing as bad publicity?! A Paddy Power advert prominently featuring Pendle kit became the most complained about advert last year in the UK, with 1,313 complaints in total. Watch the advert in question on our website and read the article on the BBC website. Thankfully, the complaints were not upheld & we didn't know about the advert's content. So, what do you think? A fair criticism or taking things too far?
---

Winners Wear Pendle!
Despite being runners-up many times Arbroath FC has never won a trophy since forming the club in 1878. Until now! Last season they had their first win, becoming Scottish Football Division 3 Champions and being promoted to Division 2. Is wearing Pendle a coincidence?!
---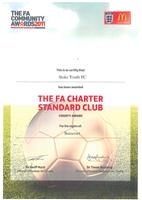 League Winners Also Wear Pendle!
We are also very proud to announce that Stoke Youth FC have recently won both the Jon Russell Cup Final, along with Charter Standard Club of the Year for Somerset. When you also add to it that their league won Charter League of the Year, then that's what we call an impressive season! Can your team do any better?
Share any stories with us by emailing them to enquiries@footballkit.co.uk and they might make the next newsletter
---

Recycling Carries On Going Round…
Following on from last newsletter's recycling report, where we reported that rather than throw their old kit out with the rubbish, Brinkworth Cats recycled it on by donating it to a team in Kenya. Several of you have got in touch with us to say you do the same, including Reading Rangers JFC who have donated old kit from themselves, along with collecting other kits from teams in the league, to the charity Kit Aid. So far they have impressively sent over 150 kits all over the world.
---

Previous Newsletter Quiz Winner…
Thanks to you all for your support and entries on last newsletter's quiz, the answers were as follows:-
How many times did Ajax win the European Cup (now The Champions League) in the 1970s? Three
Which club did Arsenal beat in both the 1993 League Cup Final and The FA Cup Final? Sheffield Wednesday
Which club was founded first Glasgow Celtic or Glasgow Rangers? Glasgow Rangers
Which football team did Liverpool legend Bill Shankly first manage? Carlisle
Which club did England legend Bobby Charlton player manage for two seasons? Preston North End
The winner pulled at random from the correct entries was Highcroft FC, Cardiff. How did you do? Why not try your luck with this edition's quiz below?
---

Quiz Of The Month!
As it worked so well last time we decided to do it again! So, for another chance to win a £50 voucher off your next order (no minimum spend) please answer the below questions:-
Who joined Liverpool from Celtic in 1977 For £400,000?
Which club did Neville Southall leave to join Everton?
Which Manchester United player was the first to be sent off during an English FA Cup Final?
Which England goalkeeper lost his eye in a car crash?
Which French football player was banned for a year from the national team after falling out with manager Henri Michel?
Send your entries to enquiries@footballkit.co.uk before Midnight 31st September 2011 to qualify. All correct entries will be put into a draw and the winner will be announced in the next edition of our newsletter. Good luck!
---
Can We Do Better?
Can you give us any feedback on the other products we sell? We're always thinking of new ideas for the next season, so if there's something you'd like us to offer that we don't currently, or a colourway you'd like us to introduce please get in touch with us, we're always open to suggestions. Submit your feedback via e-mail to enquiries@footballkit.co.uk
Until next time…
The Pendle Sportswear Team