Last Updated on: 28th June 2023, 12:42 pm
Football Kit Printing
Printed Football Shirts, Training Wear, and More
What printing do we offer?
When you've finally decided on which of our football kits you want, you'll need to start thinking about the printing you need to add. At Pendle, we offer a range of different options that mean you can customise your shirt however you need. Our handy kit builder will guide you through every step.
Add a front sponsor if you have one. Depending on which item you are customising, this could be a large central image or a smaller image on the right or left.
Add a printed or embroidered badge. Our high-quality printed badges are favoured by most clubs because they are included in our team kit deals. However, we do off the option to have you badge embroidered.
Add initials or numbers to the front to further personalise training and club wear. Make sure everyone knows which items belong to which player. If you go with a printed badge, these options work out cheaper.
Add a back sponsor. You can add a back sponsor to most of our products if you need. This is also the step where you can add your club name. Please note, when ordering through the website, you will only have the option to add 1 sponsor on the back. If you need more, please contact our sales team.
Finally, you can add a name or number to the back of your item. Finish your kits with these final bits to create a fully personalised kit.
Pricing
We keep all of our prices as low as possible but the overall price will obviously depend on what customisation you pick. If you are looking to keep costs down, embroidered badges cost more than our printed badges and require a one-off set up of £25. You can see these options and how much they cost in the table below.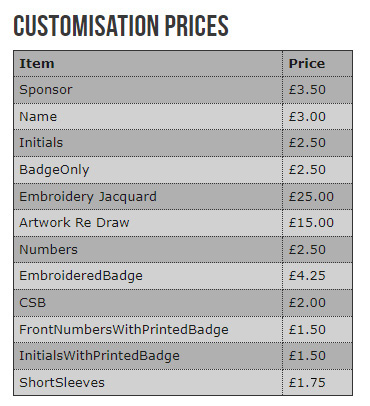 Top Quality Printing
We do all our printing in-house, which means that we can keep very tight control of quality and can ensure very quick lead times. In 2022, we updated out printing systems to a new revolutionary technique. This has not only helped us improve our processes in-house but has allowed us to increase quality. We've made sure that our high-quality printed badges last for the lifespan of your garment if you follow our washing instructions.
Printing on Football Shirts and More
All printed artwork is free to set up and will be sorted by our in-house create team. Once they've been prepared for printing, you can personalise almost every garment in our brochure. We have plenty of options available depending on your clubs needs:

Embroidered Badges Only
Some of the items in our brochure can only be customised with an embroidered club badge or name. This is due to the material and how it could be affected by the printing process. We want all items to be sent out to the highest quality, so that means restricting these items. The list of items is as follows:
Browse Our Range
As you can see, Pendle Sportswear really does offer a one-stop-shop for all your printing needs! Get started with your own Pendle football kit by clicking below to view the whole range.
---
Build Your Pendle Kit
---