Last Updated on: 21st November 2023, 04:35 pm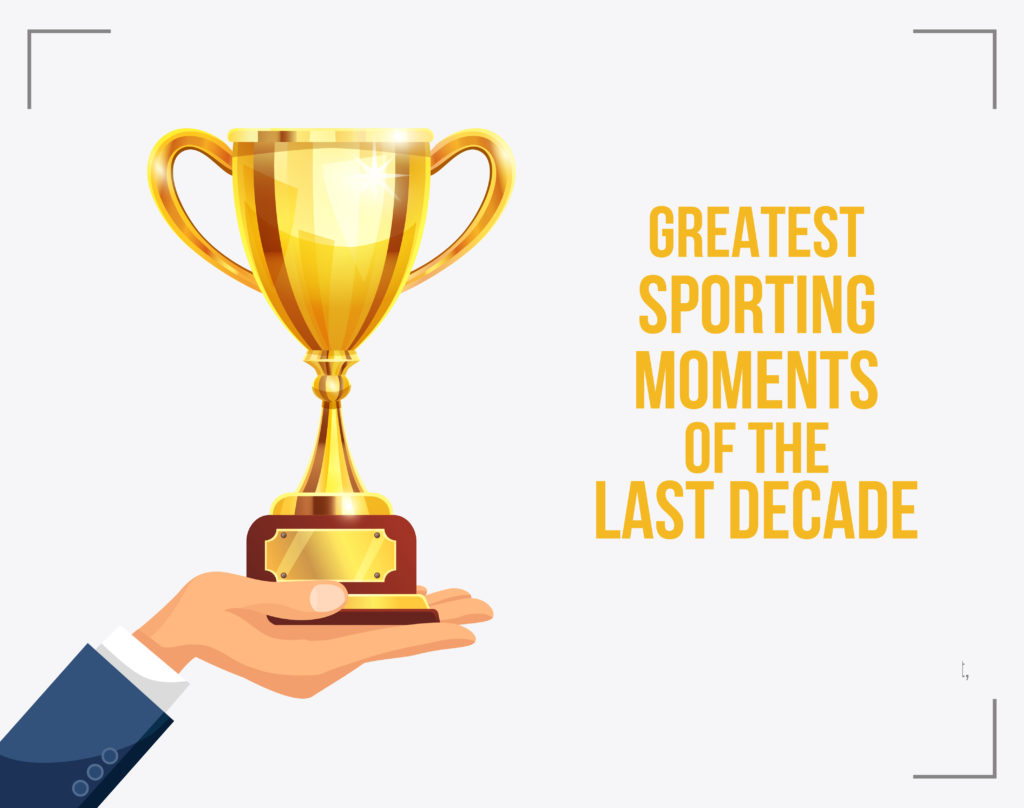 On Wednesday, we celebrated the start of a new year and a new decade. The last 10 years have been a pretty momentous time for sport. We've seen some epic successes and some behaviour that we'd rather leave in the past. When it comes to most unforgettable moments, there have been a whole host of times that we've all felt pride about our sporting heroes. So, what have been some of the best sporting moments of the previous decade?
Men's Football
This year alone has seen some fantastic moments in men's football including Liverpool's remarkable comeback to beat Barcelona 4-0 to reach the Champions League final. This marked the second time that there was an all-English Champions League final. 2019 was a great way to finish an impressive decade for the sport. Over the last 10 years, there have been some memorable and record-breaking moments in men's football. It was the decade that saw Alex Ferguson retire after 26 years. He left after United won the Premier League and having won 38 trophies in his career.
2018 World Cup
Of course, one of the most unforgettable moments has to be England's performance in the 2018 World Cup when the team were able to make up for a past of disappointing penalty shootouts. This time, when their match against Colombia came down to penalties, the England team came out on top to reach the quarter-final. It was a proud day for English football and evidence of how far the team has moved forward.
Germany vs Brazil
There have been some incredibly dramatic World Cup moments in the last 10 years and one that sticks out is the 7-1 defeat of hosts Brazil by Germany in 2014. This was the year that Brazil was going to make their glorious World Cup comeback in front of a home crowd. Nobody expected their journey to end the way it did.
Manchester City
There have been far too many great achievements over the last 10 years to name here but some of them do stick out more than others. Who can forget Sergio Aguero's dramatic goal that won Manchester City the title in 2012? It was one of the greatest and most unexpected comebacks of all time. With Manchester United feeling comfortable with their win, City fought back from being 2-0 down to a 3-2 win. It's a moment that won't quickly be forgotten.
Leicester City
Or what about Leicester City defying all the odds to become champions of the Premier League in 2016? Or what about in 2016 when Celtic completing the treble after going undefeated during Brendan Rodgers' first season? It's been a sensational 10 years for men's football and, clearly, the next is only going to get better.
Women's Football
Not only was 2019 a great year for women's football thanks to the FIFA Women's World Cup but the sport has gone through huge changes in the last 10 years. Looking at the huge increase in viewers for the World Cup, it's strange to think that it was only in the last decade that British women were able to make a career out of playing football. Before that, players were forced to work as well as play the sport. Now, it looks as if they are finally being taken seriously as professional athletes.
2015 World Cup
Though they may have missed out on a win at the 2019 World Cup, the England women's team have been proving they are a team to watch. In 2015 they came third in Canada and gained the best World Cup finish by any team since 1966. These are women who are inspiring new generations to take up the sport and there have been record numbers of female players starting their football journey. We've discussed the impact of the 2019 Women's World Cup in one of our earlier blog posts
Prize-Winning Women
Though the Lionesses are certainly a team to be proud of, women's football has a whole host of players to be idolised. Ada Hegerberg became the first winner of the Ballon d'Or Féminin in 2018. The Norwegian player had just won four Champions League titles with Lyon and had been named the best female footballer in the world. Her achievement was followed by Megan Rapinoe, who received the award after the USWNT's success in the 2019 World Cup in France. Rapinoe was one of the standout players on the American team both on and off the pitch. She is proving that female footballers do have the power and impact that male players do.
Marta
Something that is also understood by Marta. You know that a footballer has really made it when they are only referred to by one name. The 2019 World Cup saw the Brazilian break a number of records. She became the first player, either male or female, to score in 5 World Cups. She also became the footballer to score the most overall goals in the competition's history. Though Brazil was defeated by France, Marta came out of the World Cup on top.
Cricket
One of the greatest sporting moments of 2019 has to be the moment that the England cricket team won the Cricket World Cup. The final match was absolutely thrilling. England managed to make their way to victory in a Super Over against New Zealand. With an incredible performance from Ben Stokes, this was a match filled with real drama and a little bit of controversy. Up until this year, England had been runner-up in the tournament more often than any other team, so this win on their home ground was even more special.
And that's not the only time in 2019 that Ben Stokes proved what a great player he is. Not long after the World Cup win, Stokes managed to do the impossible and keep England's Ashes hopes alive. They were 9 wickets down and still needed 73 runs to win. Everybody thought the Ashes was over but Stokes wasn't ready to give in. It was quite a performance.
2011 seems like a long time ago now but it remains one of the best periods for English cricket. With an amazing batting line-up and under the captaincy of Andrew Strauss, the England cricket team went on to win the Ashes in Australia. This marked the first time in 24 years that England had regained the Ashes.
2012 Olympics
It's hard to believe that it was 8 years ago since the Olympics came to London but that Summer saw a great time for British sport. With so many fantastic achievements in British sport, the 2012 Olympics were certainly one of the Nation's greatest sporting moments this decade. Andy Murray gained his first Olympic gold medal and became the first British man to win the Olympic singles gold since 1908. The Scot went on to achieve his second gold in the 2016 Rio Olympics and became the first player, male or female, to have won 2 Olympic singles titles.
Super Saturday
The biggest day for Britain in the 2012 Olympics was, of course, Super Saturday. Before the athletics had even started, Team GB had gained gold twice in the rowing and once in the cycling. But it was inside the London Stadium where the drama really kicked off. In under an hour three more gold medals were won by the home team. Jessica Ennis-Hill won the Heptathlon after setting herself up for victory that morning. Then followed Greg Rutherford's win in the long jump. Finally, Mo Farah made his way to the finish to get gold in the 10,000m. The 2012 Olympics were a triumph for Great Britain as a whole but Super Saturday gave us a sporting moment that very few have ever mirrored.
Your Greatest Sporting Moments?
Of course, 10 years is a long time and we've barely even scratched the surface in this post. We've not even mentioned Andy Murray's two Wimbledon wins or Fallon Sherrock becoming the first woman to win a match at the World Darts Championships. So, the question is, what was your most memorable sporting moment from the past 10 years?