Last Updated on: 1st February 2022, 10:48 am
In the fight to the top of the league, you need to make sure that you are backed up by a strong line-up of great football training gear. It might seem like an obvious thing but it is vital to make sure you are constantly developing your basic football skills.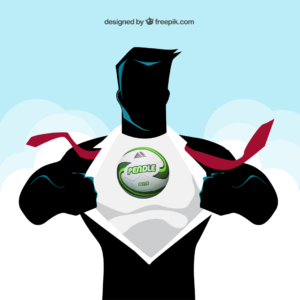 As well as our selection of quality training wear to keep you looking great, Pendle has a full range of training equipment available that will allow you to come up with plenty of drills for your team. So, we've put together our list of essential football training gear that every club should be using. As superhero squads go, we think this one is looking pretty awesome.
Any decent footballer knows that dribbling isn't just for babies. If you want your team to keep possession, they have to hone their dribbling skills. A great way to do this is by setting up a course of football cones.
Not only will a set of training cones add some extra colour to your pitch but they are fantastic tools for improving your teams' basic skills. Whether you need them to mark out training drills or full-sized football pitches, these cones are visible from any angle and will stand up to any weather.
Looking for some ideas for how to use your cones? Then take a look at these great examples.
Slalom poles are a versatile piece of football training gear. You can use them in the same way as the training cones to help with dribbling, speed, and movement. Just set them up to create fun but challenging drills with minimal fuss.
Use our slalom poles in your training sessions to help improve footwork and lateral movement. Fast footwork, super speed, and lightning reactions are the things that separate good players from super players. A set of slalom poles is the perfect piece of football training gear to help you out.
If you want an idea of a drill you can run using slalom poles then this example is a great place to start.
If you want to see improvements in your teams' movement, balance, and acceleration then a training ladder should be part of your equipment.
This is the perfect piece of football training gear for improving stride, footwork, and coordination. It can be used in several different ways and the adjustable rungs allow you to easily change the difficulty.
We've found this great video to give you some examples of training ladder drills to get you started.
If you're looking to improve agility and speed then a set of training hurdles is an essential piece of kit. At Pendle, we have a range of different sized hurdles available. You can choose between 6", 9" and 12" hurdles.
Setting up a course of training hurdles will ensure that you see quick improvements in jumping height, coordination, and lateral movement. The challenge they provide will improve core and lower-body strength and help balance.
Take a look at these handy 20 mini hurdle drills for some great ideas of how to include them in your training.
When it comes down to it, you certainly don't want to pass up the chance to improve this basic skill. Get yourself a set if you want your team to start passing like the best of them. The metal frames will stick straight into the ground or, for those on hard surfaces, you can buy a set of bases to stand them in.
Once you've set them up, the passing arcs provide a challenging target for ground passes. With this simple piece of equipment, your entire team will be able to develop their passing and control.
For tips and ideas on how to use your passing arc, check out this video.
We can't decide if this is the worst or the greatest superhero name ever but we do know that Folding Free Kick Man is the perfect guy to help with your training. Plus, he's an absolute breeze to assemble. All you need to do is attach him to some slalom poles and you're ready to go. Folding Free Kick Man's mesh is lightweight but hard-wearing, so will stand up to whatever your players can fire at him.
This useful piece of training kit is the ideal way to help your players practice for free kicks. They make the perfect obstacle to bend the ball around. This is, obviously, an important skill to have and requires a great deal of practice to get right. Just set them up and have your player try to get the ball over the wall.
Alternatively, set the mannequins up as defenders around the box and create a great drill to help your strikers. Have your striker move past the opponents and take their shot. Folding Free Kick man will help you out with whatever you need from him.
Take a look at this video to see the England Under 21s use similar equipment in their training.
An evasion belt is a fun piece of football training gear that pits two players against each other. They must be quick to try and break the connection between them. Strap both people in, connect them with a Velcro cord and see if the attacker can get far enough away from the defender to break apart.
This is a perfect piece of equipment to use when working on marking and mirroring. Do your players have the fancy footwork and fast reactions they need to keep up? Get them ready to lose defenders in real-game situations by preparing them with an evasion belt.
For some helpful ideas on how to include an evasion belt into your football training gear then check out this video.