Last Updated on: 21st December 2022, 02:59 pm
When it comes to supplying football kits, Pendle has over four decades of experience. During that time, we have provided new kits and teamwear to plenty of different clubs. We like to think of everyone as part of Team Pendle, so we're always happy to see customers coming back every season to order their new kit. It turns out, for one club, the 2022 season marks a significant landmark.

Landmark Kit Partnership
Alloa Athletic FC has been wearing Pendle kit for 25 years. Having got their first Pendle strip back in 1998, the club has stayed with us for the last quarter of a century. It's a fantastic landmark to achieve and we hope to continue it for many seasons to come. Many thanks to Alloa for their continued support. If you want to get nostalgic, you can take check out the club's previous kits at Historical Football Kits.
The Wasps
2022 sees the club wear their traditional amber/black hooped shirt. However, this time, it has a slight twist. The new kits were described in a recent programme by Jonathan Markwell:
The chequered pattern behind the black component of the top adds an extra layer of richness to the design… In addition, the chequered pattern gives a nod to the Matchwinner kits from the late 1980s and 1990s.
Their new kit is available on Alloa's club shop to buy and has seen a positive reaction from supporters. We certainly think it looks great on and off the pitch.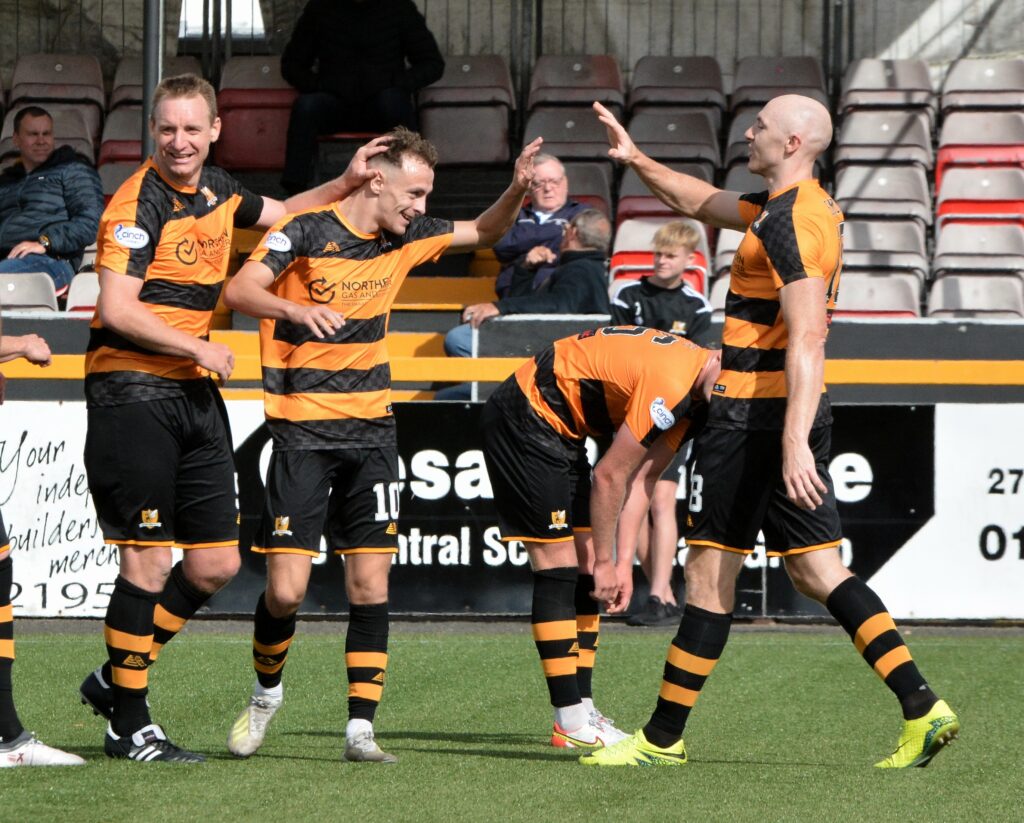 Record Breaking
In the words of Jonathan Markwell, Pendle has "become an integral part of the Alloa DNA for a quarter of a century now!" In fact, there will be plenty of fans who don't remember a time when the club wasn't wearing the kits we've supplied. Maintaining a working relationship for a quarter of a century is a fantastic achievement in its own right. What makes this particular milestone more impressive is that it's the longest-running team kit partnership in Scotland. That's right, we're breaking records in Scotland.
2 in the Top 3
Our kit partnership with Alloa has been going strong for about a decade more than the next longest. The second spot is taken by Falkirk who has been getting their kits from Puma since 2008. Pendle comes up again in number 3 the number 3 spot thanks to our kit partnership with Forfar. We've been supplying kits for them since 2009. Meaning Pendle has become a familiar presence on Scottish football pitches.

Quality, Service and Price
As a company, we value the long-standing relationships we develop with our customers. It's one of the reasons we have such a fantastic and loyal customer base. We're proud to supply kits to all of our clubs around the UK. Pendle was established to provide grassroots football clubs with top-quality kits at fantastic prices. We do everything in our power to keep costs low and make sure your kits arrive as soon as possible. We think this 25-year kit partnership is pretty solid proof that we're on the right track.
Start Your Kit Partnership Today
When you buy kits from Pendle, you are getting the best quality kits for the best prices. We have kit designs and deals to suit every club. On top of that, we are unbeatable on our despatch times. All printed team kits will be despatched within 48 hours once your artwork has been confirmed. So what are you waiting for? Check out our range of football kits now and become part of Team Pendle.
---
Pendle Recommendations
---